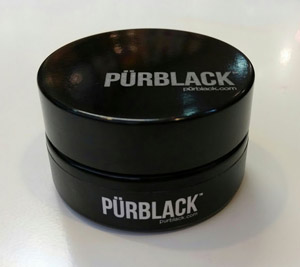 30 grams
Elite resin. Unique patent-pending manufacturing method.
Genuine resin without excipients of fillers.
Outperforms all traditional Shilajit – Moomiyo in quality and efficacy.
American technology. Manufacturing fully controlled by a US company.
FDA requirements compliant. Comprehensive, transparent, testing.
Take about a pea-sized portion daily. Dissolve in liquid and drink or take straight under the tongue. The jar lasts an average of two months. Do not use in juices, smoothies or any liquids that have a binding effect. Can be used in coffees, teas or milk. Always use high quality, clean water as a base.
PürBlack is one of a new class of superfoods called Biogenic Catalysts, which naturally assist the body in reaching its maximum genetic potentials. Adaptive Energy uses a proprietary, low-temperature process (patent pending) to purify raw resin collected from its natural sources. Without raising the resin's temperature above 39°C (102.2°F) naturally-occurring impurities are gently removed while maintaining all native nutrients and co-factors. These include abundant minerals, fulvic acids, vitamins, enzymes, tocopherols, bioflavonoids, amino acids and various other organic acids.
Features:
Concentrated trace mineral source
Superfood catalyst (increases efficacy of nutrient 3-4 times)
Supports cellular efficiency
Natural mental and physical performance enhancer
Improves mental clarity, focus, cognition
Improves resistance to stress and anxiety
Improves athletic performance
Pre-workout energizer
Excellent post-workout support
Significantly decreases recovery time
Supports anabolic state
Supports healthy blood sugar
Helps build muscles and bone
Balances hormones
Supports healthy sexual function / libido enhancer
Optimizes immune response
Natural anti-bacterial/anti-microbial
Supports proper digestion, liver function and detoxification
Anti-inflammatory
Enhances bioavailability and bioactivity of other nutrients
Amplifies effect of other superfoods and tonics
Anti-aging effect
Adaptogen
Ayurvedic rasayana
Traditional resin form not a denatured powder
Preserves bioactive compounds unlike other Shilajit products
Available at Nontoxic Shop
Improve Your Health
with PurBlack