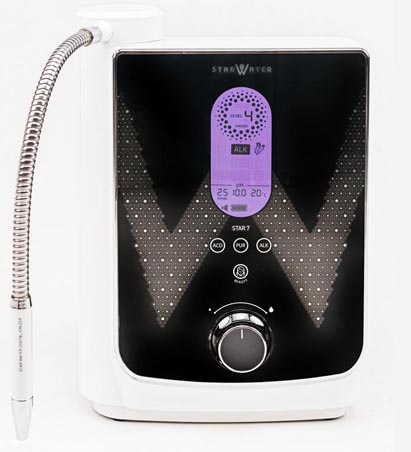 The Star 7 water ionizer has a multi-stage filter where tap water passes through and an electrolysis chamber of 7 pieces of electrodes made of platinum-coated titanium electrodes for splitting water into alkaline antioxidant water and acidic water.
This water ionizer is wall mountable, making it suitable should kitchen counter top space is limited. The Star 7 is only available in white and the chamber comes with a 5-year warranty.
Benefits
Star 7 Alkaline Water Ionizer is a reliable companion for ensuring the well-being of you and your loved ones. It consists of a multi-stage filter and 7 platinum-coated titanium electrodes that are durable, efficient and maximize the ionization process.
Hence, this enables you to fully reap the benefits of Alkaline Ionized Water such as detoxification and antioxidant properties. The chamber also comes with a 5-year warranty*.
*5 years warranty on the platinum-coated titanium electrodes plates only
Benefits of Drinking Alkaline Ionized Water
Restore body pH Level balance
Detoxification
Slows down signs of ageing
Fortify immune system and enhance body's self-healing capabilities
Contains Anti-oxidants properties which block damage to body
Cleanse the colon
Mineral rich
Improved hydration
Energize the body
Smoothens and rejuvenates the skin
Benefits of Using Alkaline Ionized Water
Removes pesticide residue from vegetables and fruits
Eliminate gaminess of meat
Intensify aromas of tea and coffee
Enhances flavours of food
Benefits of Using Acidic Ionized Water
For cleaning purposes
Prevention of foot odours
Sterilization and cleaning of wound
Promoting oral health
Benefits of Using Beauty Water
Cleanse our skin efficiently
Removal of makeup
Star 7 Features
Made of High Quality, Platinum-Coated Titanium Electrodes
High Product Quality Assurance that are KFDA, RoHS, ISO 9001 certified
Able to produce 4 different kinds of beneficial water: Alkaline Ionized Water, Acidic Water, Beauty Water and Purified Water
Smart Self-Diagnosis System that auto shut down when detecting any abnormal difference in temperature and water flow
Easy Maintenance with Automatic Water Drainage
Adjustable Water Flow
LCD Colour Screen Indicator with Voice Guide & Melody
Can be wall mounted
Improve Your Water
with STARWellness
Available at Nontoxic Shop