Nuvit – Grande Platinum Placenta

S$380 (list price) for 30 softgels. Each softgel contains 600mg of sheep placenta extract. Member price applicable.
Nuvit – Grande Platinum Placenta is wholly researched and produced in New Zealand. It is kept in soft gelatin capsules and extracted from cells grown in a way that is scientifically-proven to maintain their function, integrity and bioactivity.

After 15 years of research and development, Nuvit – Grande Platinum Placenta has been widely recognised as one of the most effective supplements for anti-ageing and cell rejuvenation.

Nuvit – Grande Platinum Placenta is produced using cell culture technology. Its functional cells are extracted using cutting-edge biotechnological techniques that maintain the viability of their growth factors. These growth factors can rejuvenate and regenerate damaged and aged cells in our body, which revitalises our body in the process.

Complete Absorption for Total Youth

After sheep placental cells are grown using cell culture technology, its essence is extracted and condensed into a standard, bioactive, 600mg Nuvit – Grande Platinum Placentaencapsulated in a soft gelatin capsule. It is rich with antioxidants, and is effective in protecting cells from free-radical damage.

After taking Nuvit – Grande Platinum Placenta, the soft gelatin capsule will pass through the stomach intact to protect the active ingredients in the capsule from being damaged by stomach acids. To ensure that the cellular elements are fully utilised, they will be released and absorbed in the small intestine to achieve anti-ageing effects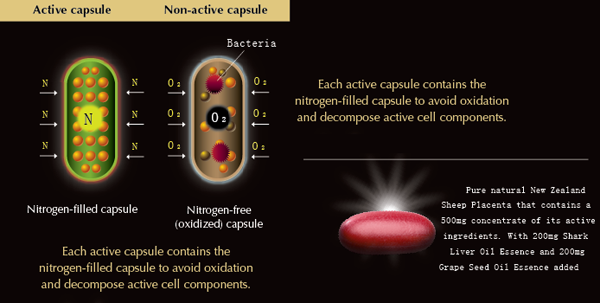 Pure natural New Zealand Sheep Placenta that contains a 600mg concentrate of its active ingredients. With 200mg Shark Liver Oil Essence and 200mg Grape Seed Oil Essence added.
Specifications
30 soft gels

Sheep Placenta Complex
Main Ingredients: each Enteric Coated Soft gel contains:

Ovine placenta extract (50:1) – 600mg
(equiv. Ovine Placenta Fresh – 30,000mg)

Squalene -200mg

Olive Oil -200mg

Aloe Vera P.E (200:1) – 10mg
(equiv. Aloe Vera fresh 2,000mg)
Other ingredients

Vitamin E (d-a-tocopherol) – 1mg

Lecithin – 25.2mg

Silica-Colloidal Anhydrous – 15.2mg

White bee wax – 70mg

Soybean Oil – 238.6mg

Direction for use:1 soft gel daily. Source of gelatin – bovine

Product of New Zealand
---
Nuvit – Gold Sheep Placenta Plus – 30 Softgels
Each soft gel contains active ingredients:

Ovine placenta extract (20:1) – 500mg
(equiv Ovine Placenta Fresh – 10,000mg)

Shark liver oil – 200mg

Grape seed oil – 200mg
(equiv –Vitis Vinifera seed oil 200mg)

Other Ingredients

Vitamin E (d-aplha tocopherol) – 1.2IU

Lecithin – 32mg

Coconut oil – 18mg

White bee wax – 6mg

Soya bean Oil – 273mg

Direction for use: 1-3 softgels daily

Source of gelatin – bovine

Product of New Zealand
---
Ask a question:

Nutrimax Wellness Store Singapore
390 Victoria St #02-30 Golden Landmark (Opp. Raffles Hospital) Singapore 188061 Tel: 6292 2991, 83338375 (Mobile)