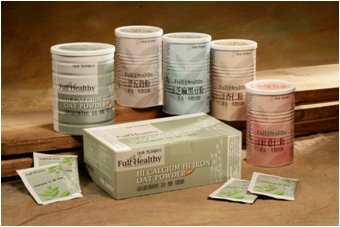 Full Healthy:
Rebuilding and preserving the ecological balance of our Mother Earth is of utmost importance to our health.
In line with the appreciation of life and protection of our Mother Earth, the Full Healthy Organic is actively seeking the natural and pure organic materials to prevent the environment from further damage. From sourcing of raw material, recipe formulation, manufacture process to production, we strictly abide by the principle of providing products with pristine and unadulterated flavor that is free from contamination. We trust that the products we deliver to our customers would give life and sustain life on earth for generations to come.
Ingredients used in the Full Healthy Product series have been certified by organic agency recognized internationally. From the selection of seeds, soil cultivation, farming to every step of the production process, all are conformed with strictest international organic certified standards. This is to ensure the end products are most wholesome and trustworthy.
Product Features:
Raw materials used in the Full Healthy Product Series are guaranteed to be premium-grade and fresh. The machinery used for the selection of materials, washing, curing, low-temperature drying and milling, are all state-of-the-art and located in a "zero-pollution" production environment. The strictest production condition is maintained to preserve the pristine taste and the nutrients, resulting in products with purest quality: it nourishes but not "heaty" when consume, with full spectrum of nutrients and would not cake when infused. We further guarantee that these products are free from artificial flavors and preservatives. They can be infused with hot or cold water and still taste great. These products are ideal beverages for busy people, and are suitable for all ages and physiques.
丰健有机: 丰富您的健康生活
重建大地的生态平衡,是人类健康生活的根本。
丰健有机本着尊重生命、热爱地球的理念,积极寻求天然纯净的有机素材,
从原料、配方、制程、生产皆经过严格把关,将原始、原味、零污染的食物传递给人们,让无限生机为人们构築世世代代的健康生活,让生态保育赋予大地盎然的生命力。
丰健有机系列产品皆采用通过严格的国际有机认證原料加工而成,从种籽筛选、土壤培育、有机环境养成、生产技术等所有素材与作业流程,全面通过最严格的国际有机认證下生产完全无污染的有机食品也是最健康且最值得您信赖的天然有机产品
产品特色:
丰健系列产品,保證严选上等新鲜原料精製而成,从原料筛选、洗净、熟化、低温乾燥至研磨,以最先进的机器设备及加工技术和零污染的生产环境,以坚持高品质的条件下生产每样产品,完整保存食物天然之原味与营养成份,质纯温和不燥热,营养不流失,冲泡不结块,并保證绝无添加香料及防腐剂,冷热饮皆可,口感绝佳,是忙碌的现代人最佳之营养补给品,适合各年龄层、各种体质均可食用。